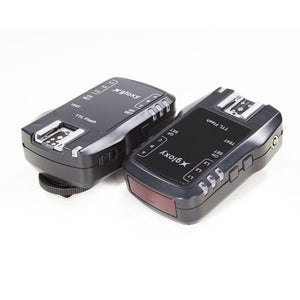 Item Information:
Condition: Brand New 
Model: Glory GX-625N
Warranty: 12 Months from S A Camera Land
These flash triggers support Gloxy flash shoes as well as Nikon cameras and Nikon speedlites/flashes.
They work as a transmitter and receiver. HSS (High Speed Synch) and TTL (through the lens) abilities are incorporated.
It is possible to control the flash with your DSLR or Camcorder at a distance of up to 100m. In the event that you only have an external flash you need to employ two triggers to separate the camera flash. You then only need to add a trigger to the extra flash you want to use.
Kit Includes:
Set of 2 Gloxy GX-625N Flash Triggers for Nikon DSLR's