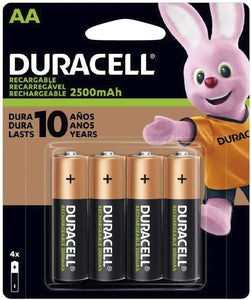 Item information:

Condition: Brand new in original packaging

Brand: Duracell




Description:

Duracell Rechargeable AA Batteries 4 Pack are guaranteed to last you for five years and will retain 80%% of their power for up 12 months when not used. Come pre-charged.

Detailed information

Description:
Duracell Rechargeable 2500 mAh 4 AA Batteries

Detailed Description:
AA 4. HR6/DX1500. Stilo/mignon. NiMH 2500 mAh. 1.2V. 100s of charges. Precharged. Stay charged*. *Up to 12 months when not in use. ©Duracell. Made in China for Duracell Batteries BVBA. www.duracell.info. C-PAP.

Pack size:
1 Pack

Quantity in pack:
4

Marketing description:
AA. HR6/DX1500. Duracell®. Rechargeable 2500 mAh. Lasts 5 years guaranteed.

Brand:
Duracell

Package type:
Hanger
Duracell 2500mAh 3 packs of 4
Very happy and lasting well when using in camera.