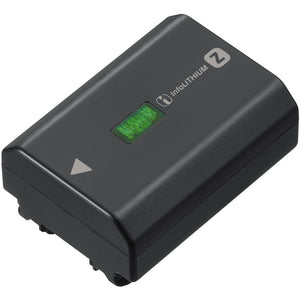 Item information
Condition: New
Warranty: 1 year
Description:
The Sony NP-FZ100 Rechargeable Lithium-Ion battery features a capacity of 2280 mAh that's powerful enough to keep your Alpha A9, Alpha A7R III & Alpha A7 III from Sony functioning. Additionally, it has InfoLITHIUM support to display the remaining battery charge on the LCD screen of the camera.
Compatible CamerasAlpha a9
Alpha a7R III
Alpha a7 III
   Specifications:
BatteryCapacity :(Wh)16.4 Wh
Amp-Hours: 2280.00 mAh
Chemistry: Lithium-Ion
Output Voltage: 7.2 VDC
Dimensions: (W x H x D)1.5 x 0.9 x 2.0" / 38.7 x 22.7 x 51.7 mm
Weight: 85 g
Battery works as expected so far. Have used it 5 times (recharged) and no issues so far. Thanks!